Since 2018, we've organized almost 600 inspiring events
Join the 100,000 people who have gathered around the world to celebrate loved ones
Caring and Experienced Team
Our diverse team brings a wide range of skills in event planning and technology. Our goal is to help you create a unique and meaningful event that upholds traditions and creates new rituals, with easy foolproof technology. We can schedule weekend and evening events with short notice, and unlimited guests can join from all international locations. Services available in Spanish, French, and close caption translation.
The GatheringUs Process
Attending Your Planning Session
The planning session is the first time the organizer shares a vision of the event. During this one-hour conversation, the GatheringUs dedicated planner will begin building the event program together with the family, suggesting elements that other families have found meaningful.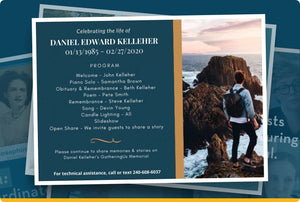 Crafting the Program
Our team guides organizers through the process with the GatheringUs Event Workbook, a shared collaborative tool for us to jointly document preferences, capture decisions and solidify program elements. We also provide a dedicated online folder for photos, videos, and other media.
Rehearsing with A/V Equipment
Before the event, all speakers will meet with the GatheringUs event team for a tech rehearsal to test devices and get comfortable on Zoom. On the day of the event, anyone with a role in the event joins before the event so we can ensure that we can hear and see them.
What Clients Are Saying
The team at GatheringUs not only took care of all the logistical and technical challenges, they had wonderful suggestions to increase the sense of community. They took most of the stress off me so I could plan the memorial my mother deserved.

Kelly F.
They made what would normally be a difficult process easy. Our planner was great to work with and very accommodating of our requests and needs. The event was VERY well-received. Many people who attended spoke to me later and expressed how great the event was.

James G.
We would not have been able to have such a meaningful, personal, beautiful Celebration of Life without GatheringUs! It was a pleasure to work with them, and they guided us through every step of turning our general ideas into exactly the type of event we wanted. They were flexible, gracious, and accommodating throughout.

Lane H.
GatheringUs was extremely communicative, organized and supportive during the planning of the event and the event itself. The tools provided kept us organized and on task. The memorial event went so smoothly and I was thrilled that I didn't have to manage any of the zoom logistics. What I really appreciated too was the team's thoughtfulness to get us a bilingual Spanish translator for the help line in case family and friends had trouble logging in.

John M.
Thank you so much for the beautiful job you did with our memorial for Larry. I have had numerous compliments on the program. All my worries for nothing. It seems everything went smoothly. You were both so kind and patient with us. Gatheringus was great to work with. Our celebration of life was well put together. A beautiful safe option to a traditional funeral experience. We had many great comments. The actual organization of the event with the rehearsal was awesome and most helpful.

Barbara F